In case we haven't met. I'm shy. I have a hard time telling you what's on my mind and an even harder time getting me to start talking about something - anything, really. Right... I haven't met a camera, microphone, or crowd I didn't like, which is the point of this little, small tiny request. 
The Shorty Awards. Last year, as a test I wanted to see how far I would get so I nominated myself for a Shorty Award. Turned out I got further than I ever expected and this year, like Oscar nominated films,  I'm going to to a little campaigning / shameless self promotion.
So what's the Shorty Awards? According to shortyawards.com: "The Shorty Awards honor the best people and organizations on Twitter and social media.Nominations may be made through Twitter and this website, culminating in an awards ceremony that recognizes the winners in dozens of official categories, as well as thousands of crowd-sourced categories. For the first time, the Shorty Awards will also honor the industry's best agencies and social media professionals."
In that a good part of my job is in the social space, and according to many of you I've helped out on a thing or two along the way with my tips, tricks, tutorials, user interviews, etc. that I've put out this year. So what do you say? Mind spending a minute or two nominating me?
Just click the banner below, and the favor will continue to be returned in the form of infotaining enjoyment via Twitter, Facebook, YouTube, and whatever else is next in the ever changing Social Media World. Just a couple of things to note, make sure you choose Tech as the category. I think they score it by the votes per category, not total votes.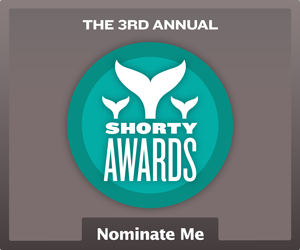 Nominate Rob Cohee for a social media award in the Shorty Awards tech category
I tried to find the largest banner I could so you couldn't miss it. 
Thanks in advance for the solid,
-Rob